Čovjek Sirena i Dječak Školjka su superheroji. Njihovi najveći fanovi su Patrick i Spužva Bob.
Čovjek SIrena je veoma debeo i star, nosi neku vrstu narandžaste majice, crne gaće, zelene rukavice i hulahopke i ružičaste papuče, a na nosu ima zaljepljenu ljubičastu zvijezdu. Čovjeku Sireni je glas posuđivao Ernest Borgnine do svoje smrti 2012. godine.
Dječak Školjka ima jako dug nos, bijelu kapicu, tirkiznu maramu oko vrata, crne gaće, crvenu majicu, tamnoplave rukavice i crne naočale. Glas mu posuđuje Tim Conway.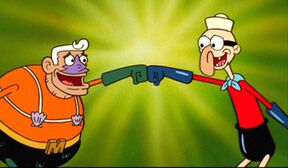 Ad blocker interference detected!
Wikia is a free-to-use site that makes money from advertising. We have a modified experience for viewers using ad blockers

Wikia is not accessible if you've made further modifications. Remove the custom ad blocker rule(s) and the page will load as expected.