Eugen Kliještić je šef restorana "Rakova Poslastica", on je stara škrtica kome je stalo samo do novca. Rođen je 30. studenog 1942. godine. Njegov najbolji prijatelj mu je njegova kasa za novac. Crvene je boje i nosi odjelo. Ima titulu najškrtije krabe u godini. Roditelji mu se zovu Victor i Betsy. Ima kćer Koraljku, koja je kit. Plankton mu je bio najbolji prijatelj, ali su se posvađali jer Eugen nije htio Planktonu dati tajni recept za rakburgere. Eugen plaća samo Kalamarka, i to vrlo malo, a Spužva Boba prezire pa zbog toga on nije plaćen. Toliko je pohlepan da je u drugom filmu Planktonu uzeo posljednju lipu koji je imao. Spužva Bob, Kalamarko i drugi zovu ga "Gospon Klještić", a Koraljka "tatica". Ima sestru i tri sestrića. Eugenu glas posuđuje Clancy Brown, a u hrvatskoj sinkronizaciji Robert Urgina (RTL) i Robert Bošković (Nick Hr).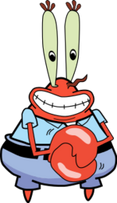 Ad blocker interference detected!
Wikia is a free-to-use site that makes money from advertising. We have a modified experience for viewers using ad blockers

Wikia is not accessible if you've made further modifications. Remove the custom ad blocker rule(s) and the page will load as expected.