Karla Plankton je kompjuter. Ona je Planktonova žena. Može da govori. Jako je pametna. Ona je glavni sistem u Planktonovom labosu. Daje savjete Planktonu kako da otme Eugenu tajni recept. Plankton je nikad nije volio i udao se za nju samo zbog koristi. Luna je zove "Ženomatik". Glas joj posuđuje Jill Talley (u hrvatskoj sinkronizaciji Lorena Nosić). U epizodi "Karla 2.0", Plankton zamenjuje Karlu zbog svađe i nije mu nimalo žao, ali Karla je tužna. Ona je plavo-siva sa crnim ekranom i zelenom linijom po sredini.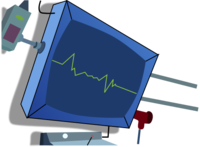 Ad blocker interference detected!
Wikia is a free-to-use site that makes money from advertising. We have a modified experience for viewers using ad blockers

Wikia is not accessible if you've made further modifications. Remove the custom ad blocker rule(s) and the page will load as expected.