Biserka je Eugenova kćerka, tinejdžerka;kit. Ona je kit a ne rak jer je Eugenijev predak iz 12. vijeka za ženu imao kita tako da je ta mutacija naslijedna. Ima 16 godina. Ima plavu kosu. Voli shopping i stalno traži novac od svoga oca, ali joj on naravno neda pa je zbog toga stalno ljuta. Koraljka mrzi Kalamarka. Glas u SAD-u joj posuđuje Lori Alan, a u hrvatskoj verziji Mirta Zečević (RTL) i Kristina Krepela (Nick Hr).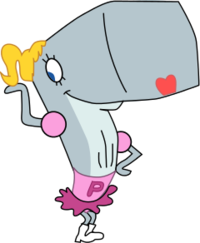 Ad blocker interference detected!
Wikia is a free-to-use site that makes money from advertising. We have a modified experience for viewers using ad blockers

Wikia is not accessible if you've made further modifications. Remove the custom ad blocker rule(s) and the page will load as expected.