Luna je vjeverica iz Texasa. Živi u staklenoj kupoli u kojoj je drvo, a kad izađe iz nje nosi astroanutsko odjelo jer nemože disati po vodom. Ona je izumitelj. Njeni roditelji zovu se Ma i Pa. Luna voli karate i često se takmiči sa Spužva Bobom, ali ona uvek pobjedi. Nosi ružičasti cvjet u kosi. Zna da surfa. Sendi se prvi put pojavljuje u epizodi "Čaj na svježem zraku". Jedna je od Spužva Bobovih najboljih frendova. Luna ima brata blizanca. Ona mnogo voli rakburgere što je pokazano u drugom filmu. Glas joj posuđuje Carolyn Lawrence, a kod nas Ivana Hajder (RTL) i Nikica Viličić (Nick Hr).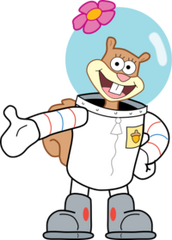 Ad blocker interference detected!
Wikia is a free-to-use site that makes money from advertising. We have a modified experience for viewers using ad blockers

Wikia is not accessible if you've made further modifications. Remove the custom ad blocker rule(s) and the page will load as expected.