Slavko je Sunđer Bobov puž koji mjauče. On nije običan puž, jako je intelignetan, kad Spužva Bob nije tu, Slavko čita poeziju i razne knjige. Slavko je plavo-zelene boje sa ružičastom kućicom. Slavkov otac zove se Sluggo i on je brat od Patrickovog oca, što znači da je Patrick Slavkin stričević/amidžić. To simbolizira i da je Slavko djelimično morska zvijezda, tačnije 43.75%, i 1/16 Ameba. Slavko je zaljubljen u Kalamarkovu "pužicu", Sneli. Kao i Spužva Bobu, glas posuđuje Tom Kenny, osim u snu i tada mu glas posuđuje Dee Bradley Baker.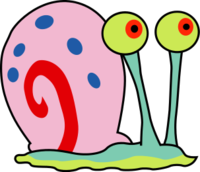 Ad blocker interference detected!
Wikia is a free-to-use site that makes money from advertising. We have a modified experience for viewers using ad blockers

Wikia is not accessible if you've made further modifications. Remove the custom ad blocker rule(s) and the page will load as expected.