Film o Spužva Bobu je izdat 19. studenog 2004. Tada se Spužva Bob prvi put našao na platnu i zarada je bila 84 miliona dolara. Film su izdali Paramount pictures, United international pictures i Univerzal pictures. Radnja priče govori o tome kako će Eugen otvoriti novi restoran odmah pored starog, zove se "Rakova Poslastica 2". To je samo kopija originalne Rakove poslastice. Pošto gospodin Kliještić ne može da uradi sav posao sam, mora da imenuje novog menadžera. Spužva Bob je bio ubeđen da će on dobiti to unapređenje. Na otvaranju ceremonije, gospodin Kliještić nije imenovao Spužva Boba, već Kalamarka. To je jedan od dokaza kako gospodin Kliještić ne cjeni Spužva Boba, i Spužva Bob je bio toliko tužan što nije dobio unaprađenje. U međuvremenu, Plankton je otkrio plan zlom kabinetu, plan Ž(U engleskoj verziji je to plan Z jer je to zadnje slovo engleskog alfabeta). On je iste te večeri počeo da radi po tom planu. Plan je bio da ukrade krunu kralja Neptuna i odnese je u Shell City, ali za to da optuže gospodina Kliještića. Kralj Neptun je zaledio gospodina Kliještića i jedna princeza Mindy (Neptunova kćerka) je uspjela da nagovori oca da Spužva Bob i Patrick donesu njegovu krunu. Oni kreću na dalek put do Shell City-ja u kome na svakom koraku vreba opasnost...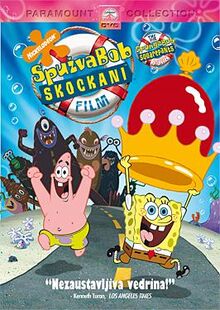 Ad blocker interference detected!
Wikia is a free-to-use site that makes money from advertising. We have a modified experience for viewers using ad blockers

Wikia is not accessible if you've made further modifications. Remove the custom ad blocker rule(s) and the page will load as expected.