Spužva Bob Skockani film: Spužva na suhom (engl. The SpongeBob Movie: Sponge Out of Water) američki je animirano-igrani film iz 2015. godine baziran na Nickelodeonovoj animiranoj TV seriji Spužva Bob Skockani čiji je tvorac Stiven Hilenburg. Režirao ga je Paul Tibbitt, a scenario su napisali Glen Berger i Jonathan Aibel. Producenti filma su Paul Tibbitt i Mary Parent. U SAD-u je premijerno prikazan 6. veljače 2015. godine, au Srbiji i Hrvatskoj 23. travnja 2015.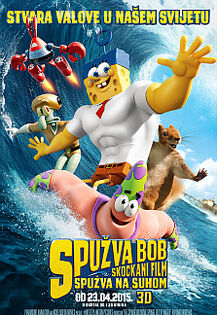 Spužva Bob uživa u životu okružen prijateljima: Patrikom zvijezdom, zajedljivim Kalamarkom, znanstvenicom Lunom i rak-kapitalistom gospodinom Kliještićem. Kad netko ukrade tajni recept za rakburgere, vječni neprijatelji Spužva Bob i Plankton moraju se ujediniti protiv pirata Burgerbradog (Antonio Banderas)...
Ad blocker interference detected!
Wikia is a free-to-use site that makes money from advertising. We have a modified experience for viewers using ad blockers

Wikia is not accessible if you've made further modifications. Remove the custom ad blocker rule(s) and the page will load as expected.