Spužva Bob Skockani (rođen 14. srpnja 1986. u Bikini Dolini) je glavni lik istoimene američke animirane TV serije. Prvi put se pojavljuje u epizodi "Tražimo kuhara" koja je premijerno prikazana 1. svibnja 1999. On živi na adresi 124 Conch Street, u ananasu na dnu mora sa pužem Slavkom, koji mjauče. Spužva Bob radi kao kuvar u restroranu "Rakova poslastica". Spužva Bobov hobi je lov na meduze. Njegovi najbolji prijatelji su Patrick Zvijezda i vjeverica Luna. Spužva Bobov prvi komšija je lignja po imenu Kalamarko. Pipkavac kojeg ova vesela spužva smatra prijateljom. Spužva Bob je vjerovatno najmaštovitiji stanovnik Bikini Doline. On je glavna maskota Nickelodeona. Spužva Bobovi roditelji zovu se Harold i Margaret Skockani. Spužva Bob je 374 puta za redom dobio nagradu za radnika mjeseca u Rakovoj Poslastici. Žute je boje sa maslinasto zelenim rupicama (kojih ima 40) i plavim očima. On je morska spužva, iako izgleda kao ona koja se koristi u kuhinji. U hrvatskoj verziji glas su mu posuđivali Ronald Žlabur (RTL) i Darije Somi (Nick Hr), a u originalnoj Tom Kenny.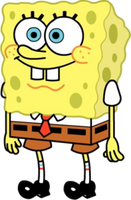 zh-tw:海綿寶寶 (人物)
Ad blocker interference detected!
Wikia is a free-to-use site that makes money from advertising. We have a modified experience for viewers using ad blockers

Wikia is not accessible if you've made further modifications. Remove the custom ad blocker rule(s) and the page will load as expected.