Ukleti Holandez/Leteći Holanđanin je zli duh koji vreba Bikini Dolinom. On plaši ljude, ali neki "trapav" način. Zelene je boje. Ima dugu bradu i nos. Većina ljudi ga se plaši. On mrzi Kalamarka. Nosi dvije pletenice. Bio je gusar. Ima sestru. Ime je dobio po legendarnom Nizozemskom brodu. Glas mu posuđuje Brian Doyle-Murray.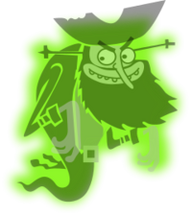 Ad blocker interference detected!
Wikia is a free-to-use site that makes money from advertising. We have a modified experience for viewers using ad blockers

Wikia is not accessible if you've made further modifications. Remove the custom ad blocker rule(s) and the page will load as expected.